Industrial Partnerships were originally supported by the Government in Westminster through the Employer Ownership of Skills (EOS) Fund.
The Energy & Efficiency Industrial Partnership – the predecessor to the current Energy & Utilities Skills Partnership – was an English project-based collaboration. It was originally due to be funded from 2014-2017 to drive a radical new approach to recruitment, skills and workforce development; facilitating employers working together to set the skills agenda and leading new approaches to training development, delivery and assessment as well as monitoring and measuring competence. 
Achievements during the lifetime of the Energy & Efficiency Industrial Partnership: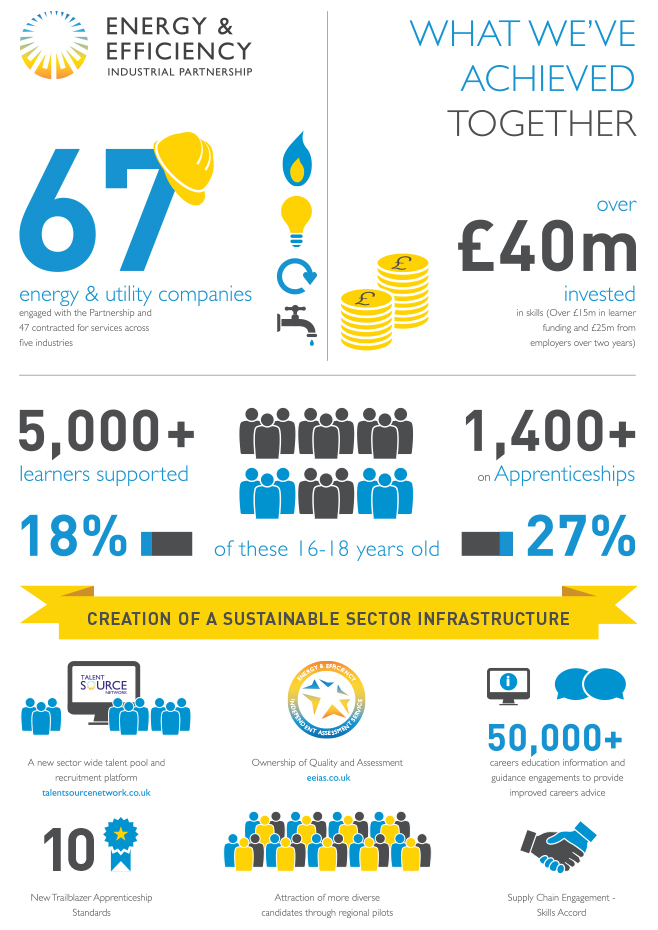 Also see the summary report on industrial partnerships produced by UKCES in 2016.
When this funding ended a year earlier than had been expected, in March 2016, the employers involved saw the value of their collaboration together, and felt a wider reaching and more strategic approach was possible. As a result, a new initiative was created, involving energy and utility organisations from across the UK, building on the momentum of work done before to tackle our workforce renewal and a UK-wide strategic group whose focus is to grow a sustainable sector talent pool whilst leveraging the talent we have already in the most effective way. Find out more about this new Industrial Partnership for energy and utilities: