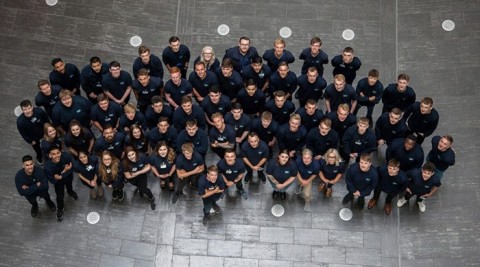 The top 100 employers of apprentices for 2017-18, as compiled by Rate My Apprenticeship, includes seven Energy & Utility Skills members.
Rated 16th, Siemens leads the charge for the sector, and is followed by Severn Trent Water, British Gas, EDF Energy, National Grid, SSE and E.ON.  Rate My Apprenticeship is based on reviews written by thousands of trainees.
Nick Ellins, CEO of the Energy & Utility Skills Group said: "We send congratulations to everyone listed, particularly those who are continuing the energy and utilities sector's long-held tradition of championing apprenticeships.  Apprenticeships provide a vital supply of new talent to help ensure the resilience of the workforces across waste management, power, gas and water.
"Apprenticeships are putting thousands on the first rung of a career ladder towards other roles that the energy and utilities sector will need to fill to meet the challenges of the next decade. The release of Rate My Apprenticeship list is more welcome news, following the recent graduation of power apprentices at SSE and UKPN, working under the banner of the Energy & Utility Skills Partnership."
The Energy & Utility Skills Partnership, a collaboration of 28 sector employers working together to address current and future skills and workforce issues, has committed to improving the value and quality of apprenticeships in the sector in order to fulfil the expectations of the National Infrastructure Delivery Plan and deliver continuous improvement of customer service.
The energy and utilities sector needs to recruit 221,000 people over the next 10 years, with 20% of its workforce retiring over that same period. The sector has a critical role for the UK, delivering essential services to 65 million citizens each day and being responsible for 56% of the National Infrastructure Pipeline – a pipeline that underpins the UK economy.
To read more from the Energy & Utility Skills Partnership's Workforce Renewal and Skills Strategy, click here. If you're interested in finding about becoming an apprentice visit Talent Source Network, the energy and utilities sector careers website.
Back to news