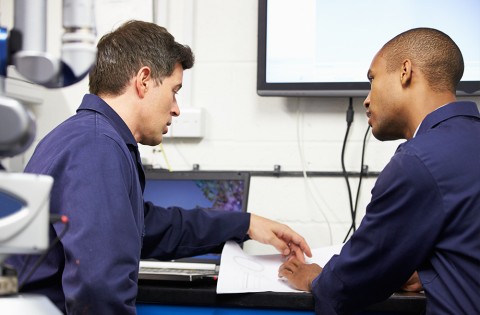 The momentum behind the Workforce Renewal & Skills Strategy continues to grow as senior figures from across the sector find resonance with its aim to ensure workforce resilience. In recent times, senior leaders from Amey, SGN and a series of pan-sector organisations have written in its support, highlighting the challenges the energy and utilities sector faces as well as the action being taken to address them.
Published last February, the Skills Strategy was developed by the Energy & Utilities Skills Partnership, a group of 29 key sector employers. It was to address the absence of a clear strategy  in the National Infrastructure Plan for Skills to enable the power, gas, water and waste management industries to deliver the 56% of the half a trillion pound investment in the National Infrastructure Delivery Plan it is accountable for.
Key among the Skills Strategy's findings was that 20% of the sector's 500,000 UK-wide workforce will leave within a decade, which could have major implications for the continued seamless delivery of the essential services provided to 65 million people every day.
Writing on addressing future skills needs, Kevin Fowlie, Managing Director, Utilities at Amey, extolled the value of collaboration and innovation in recognising that the industry will change: "We need to work closely with partners and competitors to collectively attract more people to the industry. (The Skills Strategy) is committed to promoting recruitment in our sectors, maximising investment in skills and providing consistent quality of training."
Later in the article, he continued: "Our children will be filling new roles which haven't been invented yet. Our graduate and apprenticeship programmes will continue to fuel this innovation as they invent solutions to issues that we are only just understanding – or yet to even be aware of."
Further support for the Skills Strategy has come from a number of chief executives: John Morea of SGN, World Skills' Dr Neil Bentley and Julie Nugent of Design and Technology Association.
In addition, CBI Scotland referenced the positive action the Skills Partnership is taking to address the skills challenge in its Pursuing Prosperity report. Its Deputy-Director General Josh Hardie has called for major skills reforms to support the UK's industrial strategy, with the CBI/Pearson Education and Skills Survey expressing concern that businesses may be challenged to recruit a workforce with sufficiently high skills.
In a further demonstration of its rising stock, the Skills Partnership was invited by the Scottish government to offer external support and challenge to its STEM Strategy for Education and Training.
The energy and utilities sector across the UK attracts half as many STEM graduates as the retail sector and as a result employs less than 5% of engineering graduates. Addressing this disparity is a key aim of the Skills Strategy.
"The Skills Partnership is ending talk of 'skills cliff edges' and is taking action to build a sustainable workforce," added Nick Ellins, Chief Executive of Energy & Utility Skills, the driving force behind the formation of the Skills Partnership.
Referencing the joint Energy & Utility Skills/SSE Valuable People White Paper, released last September, and the expectation that water companies in England and Wales will need to demonstrate resilience in Ofwat's upcoming price review, he continued: "The recognition that human capital is now being seen as a key determinant in regulated providers' ability to be a resilient and sustainable business, gives sector employers a platform to demonstrate their business environment challenges and how they will act and invest to overcome them.  
"The aforementioned STEM Strategy we contributed to, is important but relates only to Scotland. While there is some agreement across the four nations on the importance of skilled labour and STEM, it is important to recognise the implications of a devolved and uncoordinated skills policy environment on the UK's many multinational businesses, and the customers they serve. Avoiding increasing cost and the red tape of managing not only differing policy legislation in Scotland, Wales, Northern Ireland and England, but also now separate regional administration approaches is key."
"There are now many pieces being added to an already complex UK skills puzzle, but not one organisation holds the strategy – the vital picture on top of the puzzle box. In critical areas like UK infrastructure, where we serve 65 million consumers each and every day and the labour market has to flow and work productively across borders, there has to be stewardship and more explicit coordination from governments."
"We are emboldened by the continuing support for the Skills Strategy as we enter a pivotal time, not just for the sector as it awaits the imminent release of the Industrial Strategy White Paper but also for the wider economy as the UK government negotiates our way out of the European Union. Policy makers must recognise the critical strategic importance of its energy & utility sectors to the UK, and build a legislative and regulatory environment that ensures resilience and sustainability"  
The quotes from all of the key sector leaders that have acknowledged the value of the Skills Strategy is available at euskills.co.uk/key-documents
Back to news