Events

Engineering a Better Tomorrow Conference
Event Navigation
Advanced Engineering and Manufacturing Services Conference
SEMTA and EU Skills will jointly host the "Engineering a Better Tomorrow Conference" on behalf of the Department for Employment & Learning early next year.
As Minister Farry states in the Advanced Manufacturing & Engineering Services Action Plan, published in April 2014:
"If we are to enable Northern Ireland to compete globally, it is fundamental that we increase our export base and in this context, the advanced manufacturing and engineering services will be pivotal. To achieve these aspirations, it is essential that the workforce have the skills and technical knowledge to produce innovative products and to adapt to the challenges facing the sector."
This conference aims to bring key stakeholders together to discuss how this might be achieved.
Date: 24th February 2015
Venue: Dunsilly Hotel, Antrim
Time: 8.30am – 2.00pm
To register for this event click here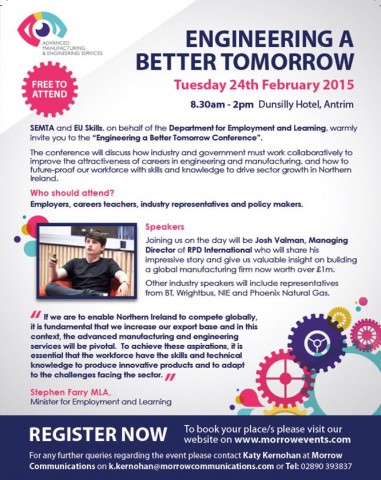 ---