Inclusion Measurement Framework
For the last two years, we have been collecting data on equality, diversity, and inclusion across the energy and utilities sector, as part of our Inclusion Commitment. The results have demonstrated where the change needs to happen for careers in our sector to properly represent and reflect the communities we serve.
It is not a secret that the energy and utilities sector is still predominantly white (96 per cent) and male (72 per cent) – significantly more so than the UK average.
This is particularly true at the CEO level – This marks the first time a dedicated survey for diversity and inclusion has been targeted at company CEOs in the sector.  Our survey data from Chief Executives reported that, from the sample of 23, 100 per cent were white British, and only 22 per cent were female. Encouragingly, most (61%) have worked in the sector for over 20 years and 13% identified as being LGBTQ+.
With the results identifying common issues, the sector has collaborated in a number of areas following these findings:
Sector inclusive attraction and recruitment best practice events
Partnership with BBC 50:50 Project, Ofgem and Energy UK to change the diversity of sector spokespeople
Sector employers signing up to support 10,000 Black Interns programme to support more black people into work in the sector
Sector employers and support of GLA Win Design Labs, supporting young black people into employment in GLA area and sharing of best practice across the sector
Sector contribution to APPG on Diversity in STEM
---
2021 Energy & Utilities Inclusion Measurement Framework
Opening for data submission from 1st September, the 2021 framework aimed to build on last year's results, measuring inclusion across the themes of Leadership, Attraction and Recruitment, Retention and Progression to provide a clear understanding of the actions the sector and individual employers can take to move diversity and inclusion forward.
2021 CEO Survey
With inclusion identified as a key priority for sector CEOs, this year we went one step further and including a standalone CEO survey.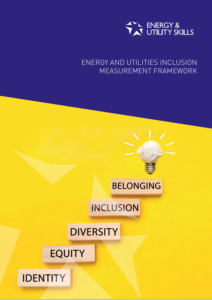 ---
Resources
Watch our webinar – Sector-Wide EDI Survey Insights and best practice event
View the slides from the Survey Insights and best practice event
Read our Press Release
---
Find Out More
If you're an employer and keen to learn more about the sector's inclusion commitment and get involved, please contact communications@euskills.co.uk
To find out more about membership and our policy work, please contact 0121 713 8255 or email membership@euskills.co.uk.
For all press enquiries visit our Media Centre.