The Process
To embed the Procurement Skills Accord requires companies to complete the following 4 stage process:
2. Embed the Procurement Skills Accord within procurement and skills development
Procurement Representative
Engage with relevant suppliers to showcase the benefits of joining the Procurement Skills Accord. For any suppliers who do sign up, provide support and guidance to help them maximise the value of being a signatory.
Benchmark your procurement processes against current sector best practice and make changes where required
Drive responsible procurement practices for skills through your supply chain
Skills Representative
Identify your operational and technical headcount, and using the Training Eligibility Criteria (TEC), identify the number of these individuals are on eligible training
Identify skills development requirements through training needs analysis, succession planning and workforce planning.
3. Complete the Annual Review
All signatories will need to take part in the Annual Review, which is designed to assess compliance against all the relevant Commitments to their organisation. This activity (completed between Dec – Jan) involves completing a Quantitative Assessment and Compliance Questionnaire.
4. Assessment and Award
Following a robust review undertaken by the Energy & Utility Skills team, each signatory will receive an individual Company Report which includes whether they have MET or are WORKING TOWARDS the Procurement Skills Accord Award. The Company Report also includes recommendations on ways companies can improve and enhance their training and procurement processes to drive skills development within their business, but also through their supply chain.
All signatories are invited to attend our annual Best Practice & Awards Event (held in May/June each year) which is an opportunity to hear from industry leaders on sector best practice and how skills development is being encouraged and driven through procurement processes.  The event is also the day we present the Procurement Skills Accord Award to companies who meet the relevant commitments.
---
The Procurement Skills Accord Logo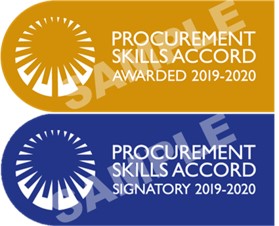 The Procurement Skills Accord Logo for 2019/20 acknowledges the hard work and commitment a company has made to achieving the Procurement Skills Accord Award in the reporting year 2019/20. Companies who achieved the award have met all the relevant criteria of the Accord by promoting the sustained investment in the technical and operational skills the sector needs most via their procurement practices (where applicable).
---
Resources
To read more about the Procurement Skills Accord, please download our brochure.
---
Find Out More
Become a signatory today. For more information on the Procurement Skills Accord and how it can benefit your organisation, please contact skillsaccord@euskills.co.uk