The Skills Accord: Driving a skills step change in training investment through procurement
WHAT IS IT?
The Energy and Utilities Skills Partnership (formerly the Energy Efficiency Industrial Partnership) set the challenge: can procurement practices be leveraged to encourage investment in training and development across the supply chain? The answer to the question was yes and the solution developed was the Skills Accord.
The Skills Accord is designed to promote and lock-in sustained investment in the technical and operational skills the sector needs most via procurement practices.
The Skills Accord has five robust and challenging commitments that require signatory companies to ensure that responsible procurement practices are used to drive investment in skills through the delivery of contracts. The ultimate aim is for it to be standard practice for signatories to adopt the commitments within the Skills Accord and, in turn, to cascade them down to their own suppliers. 
WHO IS IT FOR?
The Skills Accord is applicable to UK-based employees of the supplier organisation who are directly involved in the energy and utility sector. Signatories to the Skills Accord incur an annual fee of £1,500 plus VAT. Registration for Year 2 begins in March 2018, for a 1st April 2018 start.
The Skills Accord was developed by five lead companies with the energy and utilities sector:

WHAT ARE THE FIVE COMMITMENTS? 
To promote and invest in the skills the sector needs most, signatories of the Acco​rd agree to the following 5 commitments: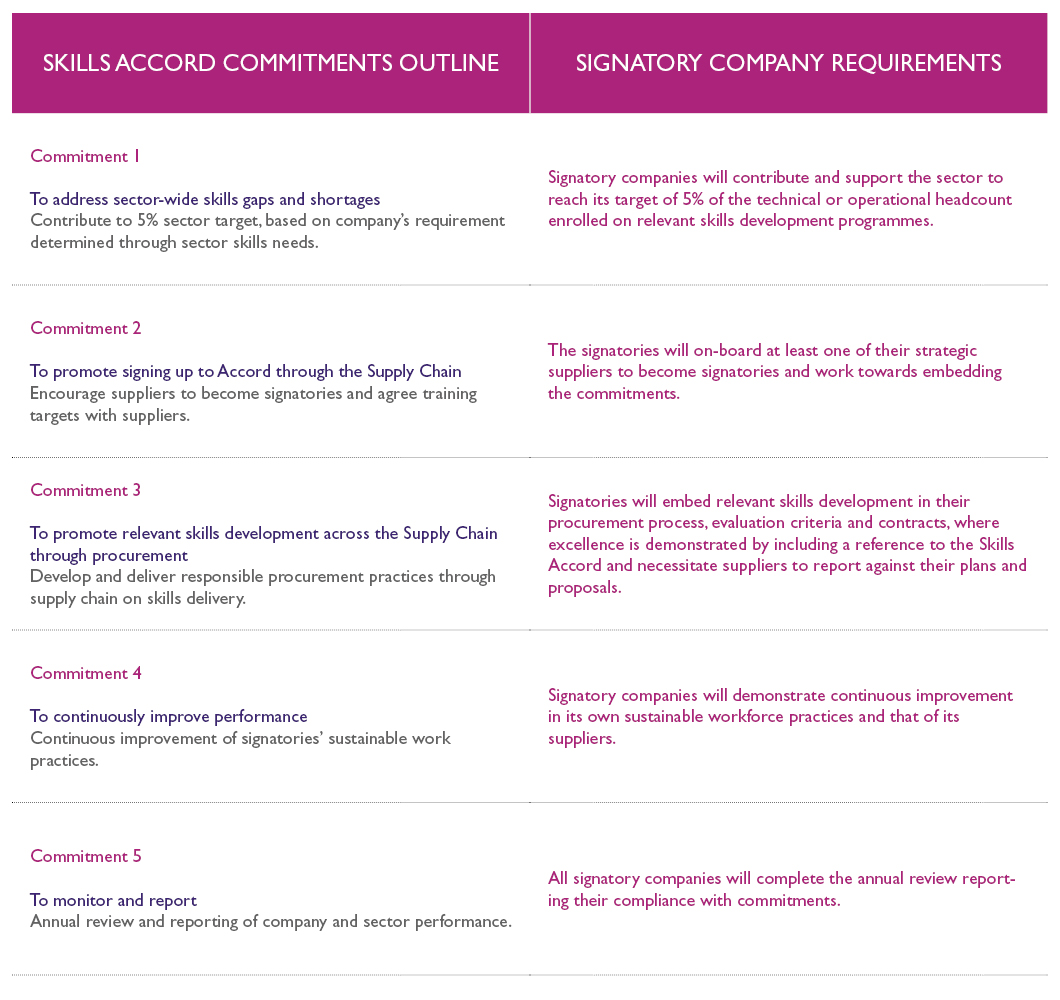 YEAR ONE SIGNATORIES 
Below are the companies who have signed up to the Skills Accord for Year One:
ABB
Alpha Construction
AMEC
Amey –  Lead Company
Andrew Hughes Utility Services
Avidety
Balfour Beatty
Clancy Group
Complete Asset Life Management
Costain
Dodd Group
Dunphy Combustion
EON - Lead Company
Gunning Transmission & Distribution Services
IBS Blowers
Instalcom
Kier Utilities
Laing O'Rourke
Lanes Group
Lewis Civil Engineering
M A Utilities
McNicholas
Morgan Sindall
Morrison Utility Services
Murphy Group
National Grid – Lead Company
Northern Gas Networks – Lead Company
Northern PowerGrid – Lead Company
O'Connor Utilities
RJ McLeod
Schneider Electric
Siemens
Skanska
South West Water - Lead Company
SSE – Lead Company
Stantec Treatment
T&K Gallagher
Thames Water – Lead Company
UKPN - Lead Company
VGC Labour Solutions
INTERESTED?
Become a signatory today. For more information on the Skills Accord and how it can benefit your organisation, please contact sue.guest@euskills.co.uk 
RESOURCES
To read more about the Skills Accord, please download our brochure.