The Energy & Utilities Skills Partnership recently launched the sector wide Apprenticeship Pledge. As struggling industries and employers across the UK pause, or are forced to end their programmes, those that sign the pledge state their commitment to continuing apprenticeships. Backing their commitment to the pledge, Morrison Utility Services has launched their Apprenticeship Development Scheme (ADS).
The ADS will be delivered alongside the usual Apprenticeship Standards Occupations as an 'added value' programme. It goes above and beyond teaching an apprenticeship's 'core specialism' providing a holistic and structured approach that equips a Morrison Utility Services apprentice with the appropriate behaviours, skills and knowledge to develop both professionally, and personally.
Following the pilot scheme in 2019/20, September will see the business commence their first cohort of apprentices. Due to the current climate, there will be a blended learning approach with a mix of in person and virtual sessions.
A new addition to the scheme is the new Mental Health Toolbox programme which aims to help apprentices develop a deeper understanding of mental health and emotional fitness in order to strengthen and build their resilience to work/life pressures.
The Mental Health Toolbox underpins the existing ADS programme (see diagram below). As part of this, apprentices are required to develop individual Wellbeing Action Plans, which they will continue to review as part of their Personal Development Programme.
The programme will finish in early 2021 with 5 x 2-day events covering the core ADS elements.
Aidan, a Highways Maintenance Apprentice, who took part in the piloted programme in 2019/20 comments:
"I was supported to participate in things I didn't think were possible for myself and I felt a lot better for it. Mainly, I believe I improved on my leadership abilities, communication and listening skills. Which are obviously three important aspects to my job. It was a worthwhile experience and one which everyone agreed has helped to improve them as a person both at work and away from there. On a personal level I would definitely say it has helped to aid my own development and I feel more confident is numerous areas now."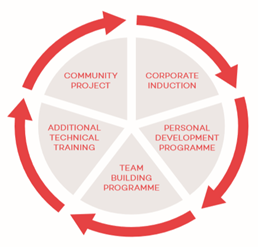 ADS: An end to end, holistic scheme equipping individuals with a rounded set of technical and non-technical skills to aid a career in the sector.
As part of Morrison Utility Services long-term investment in skills, the scheme will continue to attract and develop exceptional talent across a range of roles to ensure the business is well positioned to maintain their skills base: Electrical Power Engineering, Water and Gas Engineering (Network Construction Operations), Highways Maintenance, Engineering Manufacture: Engineering Maintenance, Business Admin, Customer Service and Chartered surveyor.

Energy & Utility Skills has been selected as the partner of choice to endorse the ADS. The Quality Assurance team have worked with Morrison Utility Services to ensure the programme is quality assured, mapped to industry and behavioural standards and benchmarked against best practice.
Louise Parry, Director of People & Organisational Development at Energy & Utility Skills, stated,
"The scheme has been developed to a very high standard and supports the sector's Apprenticeship Pledge; to work together to create an inclusive culture, employ apprentices and build a diverse and sustainable workforce in a sector pivotal to society. Morrison Utility Services has developed a scheme that will develop future talent, equipping apprentices with the technical and non-technical skills needed to have a career in the sector. The scheme also highlights the sector as a fantastic place to work, one that values its people and the development of skills"
Rachel Fayers, Head of HR – Utilities Division said,
"This programme is a representation of the fantastic work the Emerging Talent Team continues to deliver. I am proud to say Morrison Utility Services has raised the bar in offering tailored Apprenticeships and we are excited to see what the future holds for our cohorts. It's a great achievement, well done to all involved."
The scheme launches following the latest 'Workforce Renewal & Skills Strategy 2020-2025' sector publication, facilitated by the Energy & Utilities Skills Partnership. One of the key strategic priorities included Sector Attractiveness, Recruitment and Workforce Diversity. The strategy also highlights the need for 277,000 new recruits to the sector by 2030.
The Apprenticeship Pledge takes action and supports the sector's strategy, stating the commitment to investing in apprenticeships, and that as a sector we view apprenticeships as paramount to securing the right skills for the future.
While apprentices are being made redundant, organisations like Morrison Utility Services are breaking the mould with this scheme and investing in skills for the future. 32 sector organisations have signed up to the pledge to continue with their apprenticeship programmes.
To find Apprenticeships and other roles in the sector visit Energy & Utilities Jobs or for more information on the pledge visit here.