Events

Future Water Networks 2016
Event Navigation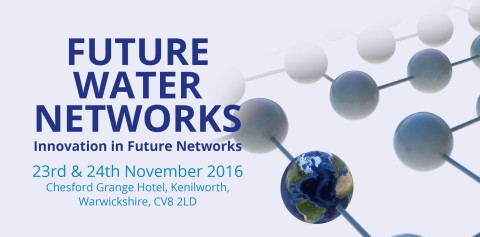 Zero leakage, self-healing networks, a revolution in performance and asset data, and a future where existing networks deliver optimum efficiency to meet tomorrow's demands!
There are major challenges and opportunities ahead across the water industry – now is the time for radical thinking coupled with a different approach to network management, leakage, metering, asset assessment and future development.
The Future Water Association is exploring these and other industry issues during the 15th Leakage & Metering Conference – now known as Future Water Networks 2016 which will review innovations in metering, market separation and competition, mobile operations and future technology. To hear the latest thinking and understand the new emerging landscape, join Future Water Networks 2016.
The event will begin with a dinner on the evening of 23 November 2016 at the Chesford Grange Hotel in Kenilworth, Warwickshire, at which Richard Laikin, UK Water Sector Lead at PwC, will share his thoughts about the Future of the Water Sector over the next decade, what changes will happen beyond 2020 and what opportunities will emerge for business. The dinner is open to all delegates, sponsors and supporters.
This will be followed by a full day conference on 24 November 2016. The morning session will be Chaired by Dennis Dellow, Northumbrian Water and will include a Keynote Address from Tom Notman, Director of Market Engagement, MoSL. The afternoon Session will be Chaired by Ian Bernard, Radio Data Networks. This packed programme will include case studies and presentations from representatives in academia, the water industry, and the insurance sector.
Visit futurewaterassociation.com for further information on attending Future Water Networks 2016, and for details of the sponsorship and exhibitor packages
---